This is a Sponsored post written by me on behalf of PeiWei for SocialSpark. All opinions are 100% mine.
I am excited to share with you about a new addition to the Pei Wei line of Lettuce Wraps. The new Sriracha Pineapple Pork Lettuce Wrap will only be available for a limited time, through December, and is a nice complement to the other three Lettuce Wrap Offerings: Traditional Chicken, Thai Chicken, and Korean Steak. It is affordably priced at just $6.95!
I have severe food allergies, so it's important for me to know exactly what ingredients are used in the preparation of my food. The Sriracha Pineapple Pork Lettuce Wrap contains all-natural, wok-seared Pork, and these Fresh Ingredients: Pineapple, Red Onions, Red Peppers, and Green Peppers. It's topped with Pei Wei's Sriracha Sauce, and served with crisp, cool Lettuce Cups. *Note: I am allergic to onions, so they're happy to leave those off – don't be afraid to ask!.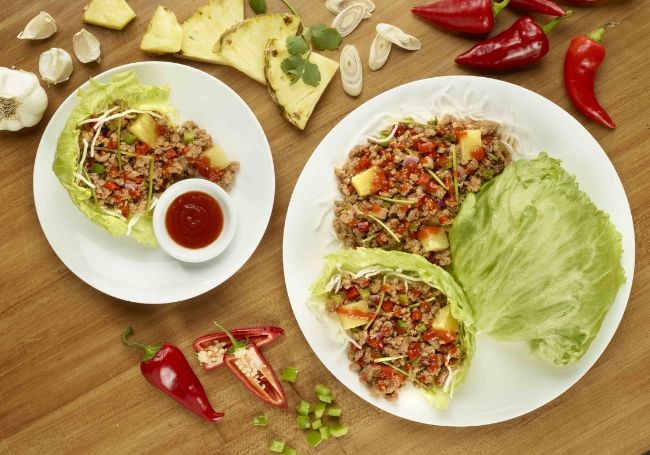 If you haven't been to Pei Wei, and enjoy Asian food, I encourage you to visit. They use a variety of 35 fresh, hand-cut ingredients in their dishes. It is a fast casual dine-in restaurant and has take-away service available as well. They also offer a wide variety of gluten-free and vegetarian options, so they have something for most everyone!
For more informations, be sure to Explore the full Pei Wei Asian Diner menu, Like Pei Wei on Facebook, Follow Pei Wei on Twitter, and Follow Pei Wei on Pinterest.
I'd love for you to leave me a comment sharing why YOU are excited to try the new Sriracha Pineapple Pork Lettuce Wraps too!